Boat Details - Dalhousie University and ENSTA Bretagne 2015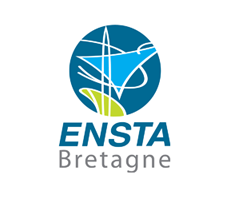 Team Name: Dalhousie University and ENSTA Bretagne
Location: Halifax, Nova Scotia, Canada and Brest, Brittany, France
Boat Name: Breizh Tigresse
Intended Route: West to East
Length: 1.44 m
Weight: 28 kg
Beam: 0.6 m
Draft: 0.6 m
Hull type: The hull for the Breizh Tiger was taken from the previously built Breizh Spirit III. The Breizh Spirit III was fabricated out of closed cell foam and marine grade plywood as longitudinal and transverse bulkheads. The only major changes to the hull shape is the addition of foam blocks on the transom which provide the extra buoyancy needed to counteract the weight of the batteries and also serve to protect the rudders. The hull was also strengthened with several layers of fibreglass filled with epoxy.
Sail Type: Classic sloop rig with a single sheet.
Power source: 20x Eagle Picher PT 2300 Keeper II D size Lithium Thionyl 10.8 V, 19 Ah Batteries. Total Capacity: 380 Ah
Actuators: Sail servo: Hitec HS-785HB, Rudder servo: Hitec HS-5646W.
Sensors: LCJ Capteurs CV7 Wind Vane, Honeywell HMC6343 Compass and SANAV FV-M* GPS.
Communications: 2 Xeos ONYX-R trackers using the Iridum satellite network.
Computers: Microchip PIC18F2550 main card and PIC16F628 daughter card.