Boat Details - US Coast Guard Academy 2020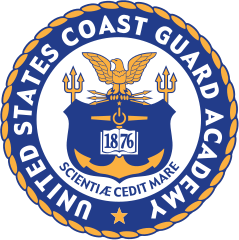 Team Name: United States Coast Guard Academy
Location: New London, Connecticut, United States
Boat Name: Bearly Assailable
Intended Route: West to East
Class: Sailing
Division: Autonomous
Length: 1.2 m
Weight: 26 kg
Beam: 0.36 m
Draft: 0.48 m
Hull type: Epoxy and E-glass hull with a plywood deck. The hull is a "MaxiMOOP v3" design custom designed for robotic sailing.
Rig Design: Cambered symmetrical foam wing of 0.3 sq. meters covered with E-glass and epoxy.
Power source: Rich-Solar 30W solar panel, Bioenno 20 Ah 12V LiFe battery and a Genasun GV-5 MPPT (Maximum Power Point Tracking) solar charge controller.
Actuators: A HiTECH DW-845 rotary servo is used to move the rudder's tiller arm. An Actuonix L16-S linear actuator is used to rotate the vessel's wing.
Sensors: LMS303 compass, Waveshare NEO-6M GPS and RLS RM22 magnetic encoder as a wind sensor.
Communications: SmartOne Globalstar Tracker.
Computers: Sparkfun Redboard (Arduino Uno compatible)
Other: This is the first attempt by the Coast Guard Academy and was a two-year project by a single cadet, Toby Ferl!