Boat Details - US Naval Academy 2017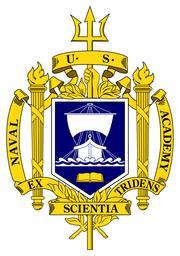 Team Name: United States Naval Academy
Location: Annapolis, Maryland, United States
Boat Name: ABoat Time and Trawler Bait (2 boats)
Intended Route: West to East
Class: Sailing
Division: Autonomous
Length: 1.2 m
Weight: 18 kg
Beam: 0.35 m
Draft: 0.41 m
Hull type: Polyester fibre glass hull, with fibre glass coated plywood deck. The hull is a "MaxiMOOP" design custom designed for robotic sailing.
Rig Design: Free-standing, rotating gaff with fixed boom and gaff.
Power source: 12 V, 20 AH LiFe battery charged by a 20 Watt solar panel.
Sail type: Battenless Dacron sail. ABoat Time's sail is 0.27 sq m and Trawlwer Bait's is 10% larger at 0.3 sq m.
Actuators: Hitec HS5646WP waterproof servo for rudder control and 20 RPM brushless motor driving a worm gear for sail control.
Sensors: Wind direction via a Honeywell RTY360LVNAX hall effect sensor, 6 DOF Razor IMU for compass, Ash-tech GP-20U7 GPS receiver.
Communications: SmartOne Globalstar Tracker.
Computers: Arduino Mega Pro 2560t.
Other: Both boats entered in 2016 and ABoat Time entered in 2015 and 2014.